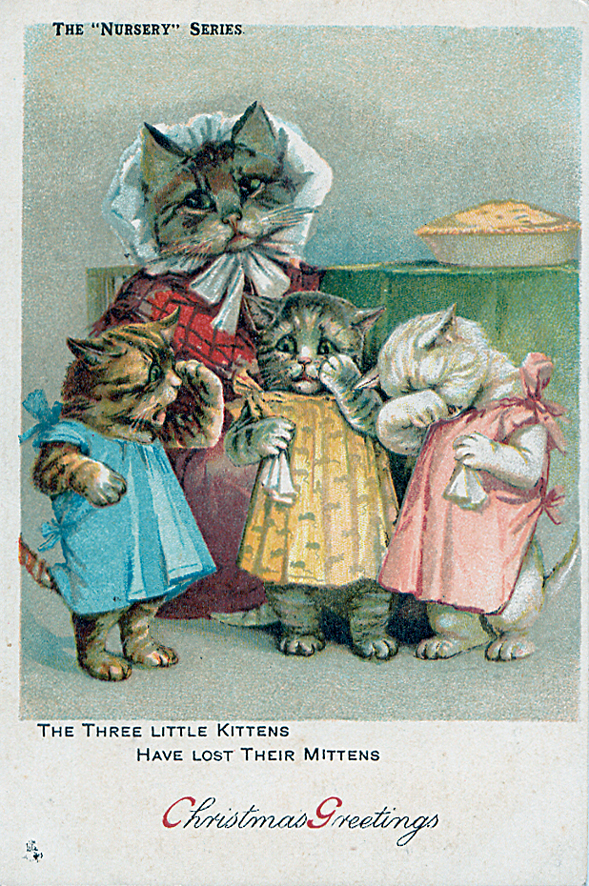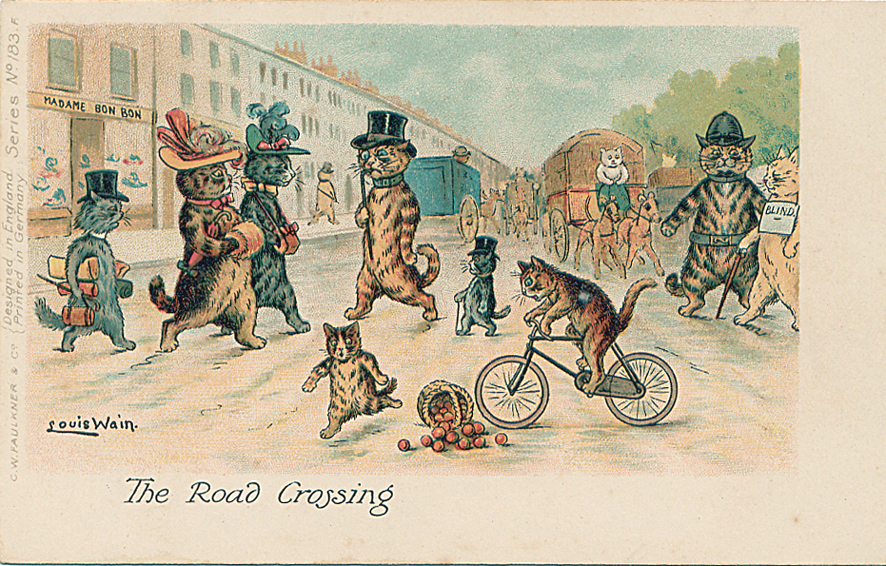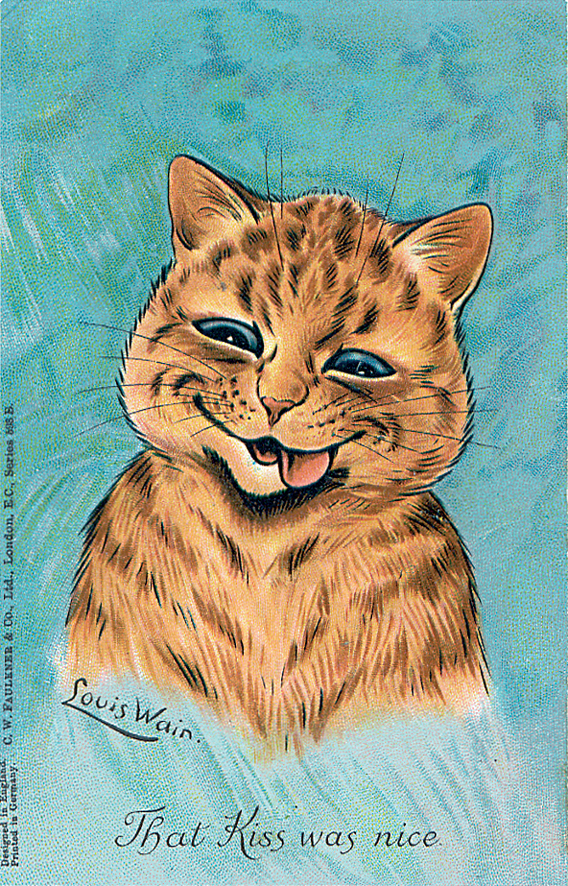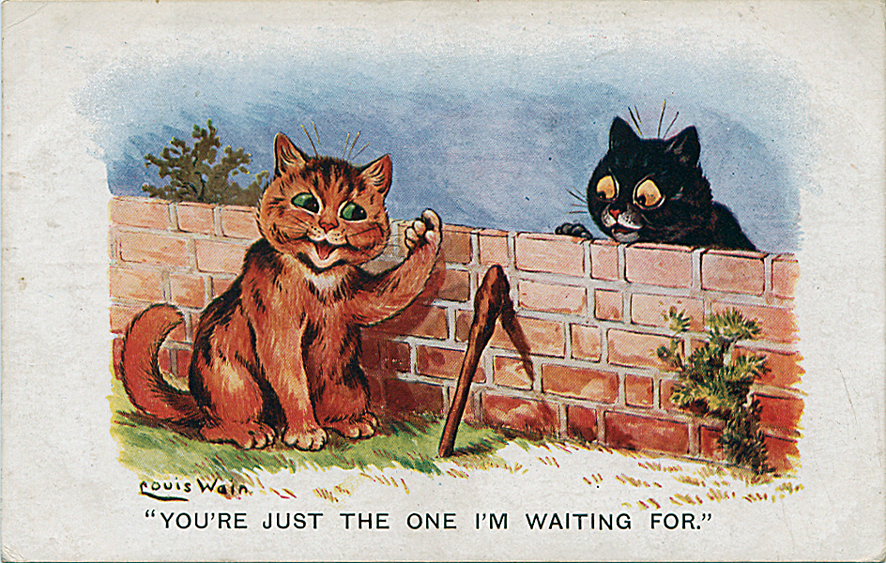 Have you seen the great new film The Electrical Life of Louis Wain, starring Benedict Cumberbatch, Claire Foy and Andrea Riseborough, with Olivia Colman narrating? If you reply in the negative, I'm not surprised as it lasted just a week at our local Showcase cinemas. The Odeon chain was showing it as well, so you might still be in luck, or check your local independent – Broadway Cinema in Nottingham has it on till 23rd January. Otherwise you can catch it on Amazon Prime. We went to a late afternoon showing, and the cinema was empty apart from us. The same was true three days alter when a couple of friends checked it out. Maybe the title was wrong – how many people outside the postcard world have heard of Louis Wain, and what was the rationale behind highlighting his ideas on electricity, for goodness sake? A more catchy title would have included the word 'cats' in some way, surely? At least that would have rung a bell with half the population (the other half are dog lovers). The film makers could not have done better than use the title Rodney Dale chose for his 1968 biography of the great artist – The Man who drew Cats. Now surely that would have pulled in the public better?
Louis Wain was a true giant of illustration between 1880 and 1918, his work adorning just shy of a thousand picture postcards and appearing in many books and magazines, including the eponymous Louis Wain Annual, which ran for many years. Most of his work featured cats, but he did occasionally try his hand at drawing other animals and birds. Over 30 UK publishers issued postcards of Wain's work, the most prolific of these Raphael Tuck with an estimated 236 designs. Wain made cats, thrust into human situations and often dressed in clothes, adorable and popular, as well as supporting cat charities. He was 'The Catman', and reigned supreme in his home country, despite stiff competition from many other artists in the genre. When the second wave of postcard collecting began in the 1950s and 1960s, new collectors recognised immediately the appeal of the Wain repertoire, and even then cards by him were expensive compared with virtually every other topic. Today his postcards frequently sell for in excess of three figures.
Wain's personal life was, on the face of it, pretty sheltered and often sad. He was a loner as a child, rarely went to school, and immersed himself in art as his main pre-occupation. At the age of 17 he went to the West London School of Art and soon became the family breadwinner, selling his paintings to magazine and greetings cards publishers. He married the family governess, Emily Richardson, ten years his senior, in 1884, but she died of cancer within two years. Thereafter he lived with his sisters, in Westgate-on-Sea and London. He did, though, spend three years in the United States, where he worked for the New York American magazine. It was his only departure from a life of solitude and painting. Always viewed as an eccentric (aren't most creative geniuses?) his mental health deteriorated to the point where he had to be resettled in Bethlem Hospital in Kent, and later another in Hertfordshire. He died in 1939 at the age of 79. Wain continued to paint throughout his stays in institutions, but his cats became near-psychedelic, a trend that inspired the title of the film.
Postcards do not specifically feature in the film, but the mere fact that his name has been brought into the limelight should alert a much broader section of people to the talents that postcard collectors have known about for the past half-century.
An exhibition of Louis Wain's work is currently showing at the Bethlem Museum of the Mind, Monks Orchard Road, Beckenham. That runs until April, while the Chris Beetles Gallery in Ryder Street, London, has a Louis Wain show running through January.
a
01 One of the 'Taking the Harrogate Waters' postcards published by Raphael Tuck in 'Oilette' series 8615. This card was posted from the Yorkshire spa town in June 1913.
02 Tuck 'Christmas' postcard no. 8123
03 'Write-away' postcard published by E.S.W.
04 Definitely one of my favourite Louis Wains! Card published by C.W. Faulkner (183F)
05 C.W. Faulkner series 593B
06 Inter-Art Co. 'Kitty' series no. 685, posted at Barry in July 1918.