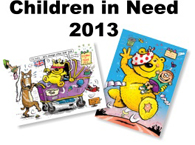 Two cards by top ex-comic magazine illustrator Duncan Scott
50p each +postage.
Every penny to BBC Children in Need.
Welcome to the Reflections of a Bygone Age website, now with added design features!

If you want anything to do with postcard collecting, you've come to the right place.

You can do online ordering of Picture Postcard Monthly - single copies or subscriptions.

You can check our comprehensive PPM index and order back copies.

We stock a wide range of publications about postcardcollecting to enhance your enjoyment of the hobby.

More books, more information, more offers....


the essential 'yearbook' in the UK. Lists dealers, clubs, fairs, auctions, shops



You can buy books, back issues or subscribe directly from this website. Check our 'how to order'' page for more details.





Picture Postcard Values 2014
- all categories of postcards and what they are worth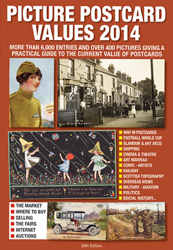 £13.95 + £1.40 post/packing
click here to order
or call us on 0115 937 4079
Picture Postcard Monthly on-line!

Subscribe to Picture Postcard Monthly and don't miss an issue! Choose from postal delivery or on-line. Every month you'll find a 60-page full colour magazine packed with news and articles, sales list and comment, and a diary of postcard fairs and auctions. This is the world of postcard collecting!

Click the 'subscriptions' link below to ensure a regular monthly treat!

If you subscribe now, you can also access 12 back issues. Two editions are available here for anyone to sample, too!

Sample Issues:
PPM Jul 11 PPM Feb 12
Current rates for PPM by post (12 issues)
UK £34.00, Europe £44.00, Rest of world surface £40.00
Rest of world airmail £58.00
PPM Online : £25.00 for 12 months access

CURRENT & BACK ISSUES . REGULAR FEATURES. SUBSCRIPTIONS
ADVERTISING . FEATURED ARTICLE

SUBSCRIBERS LOGIN


Virtually all the books Reflections publish and sell are based on, and illustrated by, picture postcards.







Postcard Collecting - A Beginner's Guide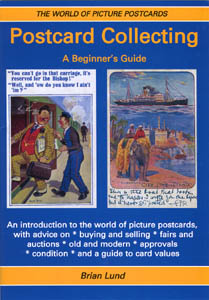 New! Fully updated and revised version of Postcard Collecting - a Beginner's Guide - the essential introduction to the hobby.
£3.95
+ £1.10 UK post
Click here
to order
or ring us on 0115 937 4079
Visit us and leading UK dealers at one of our popular events.

Forthcoming dates:2014

Saturday 3 May
Sunday 7 September



Sat 1 November
)



Reflections range of published postcards includes, transport, sporting, and political themes.

We also publish a card in aid of BBC 'Children in Need' appeal