Modern card prices outstrip some Edwardian ones!

(8/7/2019)

-

While postcard dealers at fairs are busy trying to offload stacks of unwanted Edwardian postcards at anything from 10 to 50p each, the cost of a contemporary postcard from shops and museums seems to rise inexorably, with £1 a card ...more
Picture Postcard Annual
We've published 38 editions of this, the latest dated 2018, which included a diary of postcard fairs and auctions for 2018. We have not published a 2019 edition, but are working on a 2020 volume for publication in October 2019. The current edition has lists of dealers, clubs, fairs, auctions, and retail outlets, which are still useful.The December 2018 edition of Picture Postcard Monthly has a summary of the most important 2019 UK postcard fairs.
The 2018 Annual also has features on the Russian Revolution, a Japanese correspondence, Photochrom cards, Edwardian postcard exchange clubs, 1918 and lots more! If you haven't seen a copy, it is still a very worthwhile buy. Back numbers, going back to 1980, are marvellous sources of fascinating articles and well worth getting hold of. All can be ordered by clicking on the 'Picture Postcard Annual' link under the 'Books' section of this page. Order 2018 Annual here...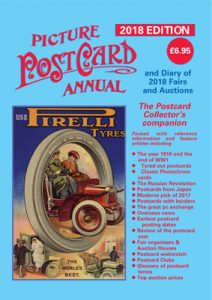 Postcards
We publish a range of postcards on the themes of transport, politics & sport, as well as local views. Series include:.
Nottingham Trams
Nottingham Life
Heritage Railways
Political satire
Brighton Pier
Children in Need
London Life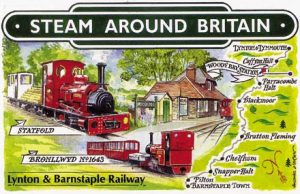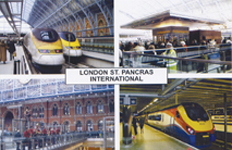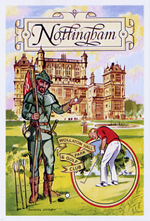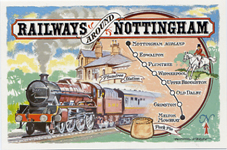 Postcard Fair
Visit us and leading UK dealers at one of our popular Nottingham events.
The next fair is on Saturday 2nd November 2019 at King's Meadow Campus, Lenton Lane, Nottingham NG7 2NR (special event that also raises money for BBC 'Children in Need' appeal.
Fairs feature old & new picture postcards, cigarette and trade cards, ephemera, maps, programmes
Saturday 1 February 2020
Saturday 6th May 2020
Wednesday 24th June 2020 (this one is an evening fair at Lowdham Village Hall)
Saturday 5th September 2020
Saturday 31st October 2020
Postcard Values
Want to know what your postcards are worth? This book will tell you all you want to know. Topographical, Transport, Royalty, Actresses, Comic - every postcard category is featured. This is the book that all collectors and dealers turn to!
40th edition of the popular, priced postcard catalogue.
All categories of postcards and what they are worth.
£13.95 + post/packing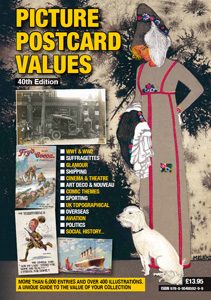 Book of the Week
Edwardian Nottinghamshire in colour.
A fascinating look at early 20th century Nottingham, its suburbs and surrounding villages through the picture postcards in Albert Hindley's 'Clumber' series. With comparative present-day photos by top photographer Rob Inglis and commentary by Brian Lund, this presentation is thought--provoking and challenging, and the book also lends itself to local exploration when in Nottingham.
263 illustrations, 128pp A4 size, the book costs £11.95 + £2.30 p/p
Order here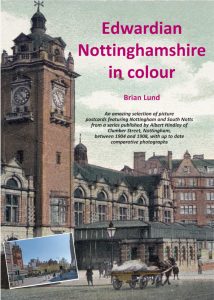 Books
Our books are illustrated with old picture postcard images (with the exception of a trio that are based on 1960s/1970s photographs and packed full of local and social history.The First World War series of ten includes superb photographic and artistic images from that conflict..
BOOK INDEX
FIRST WORLD WAR SERIES
NOTTINGHAM AS IT IS SPOKE
PICTURE POSTCARD ANNUALS
REFERENCE BOOKS/CATALOGUES
THEMATIC/ARTISTS
TOPOGRAPHICAL BOOKS
'YESTERDAY'S' SERIES
MISCELLANEOUS